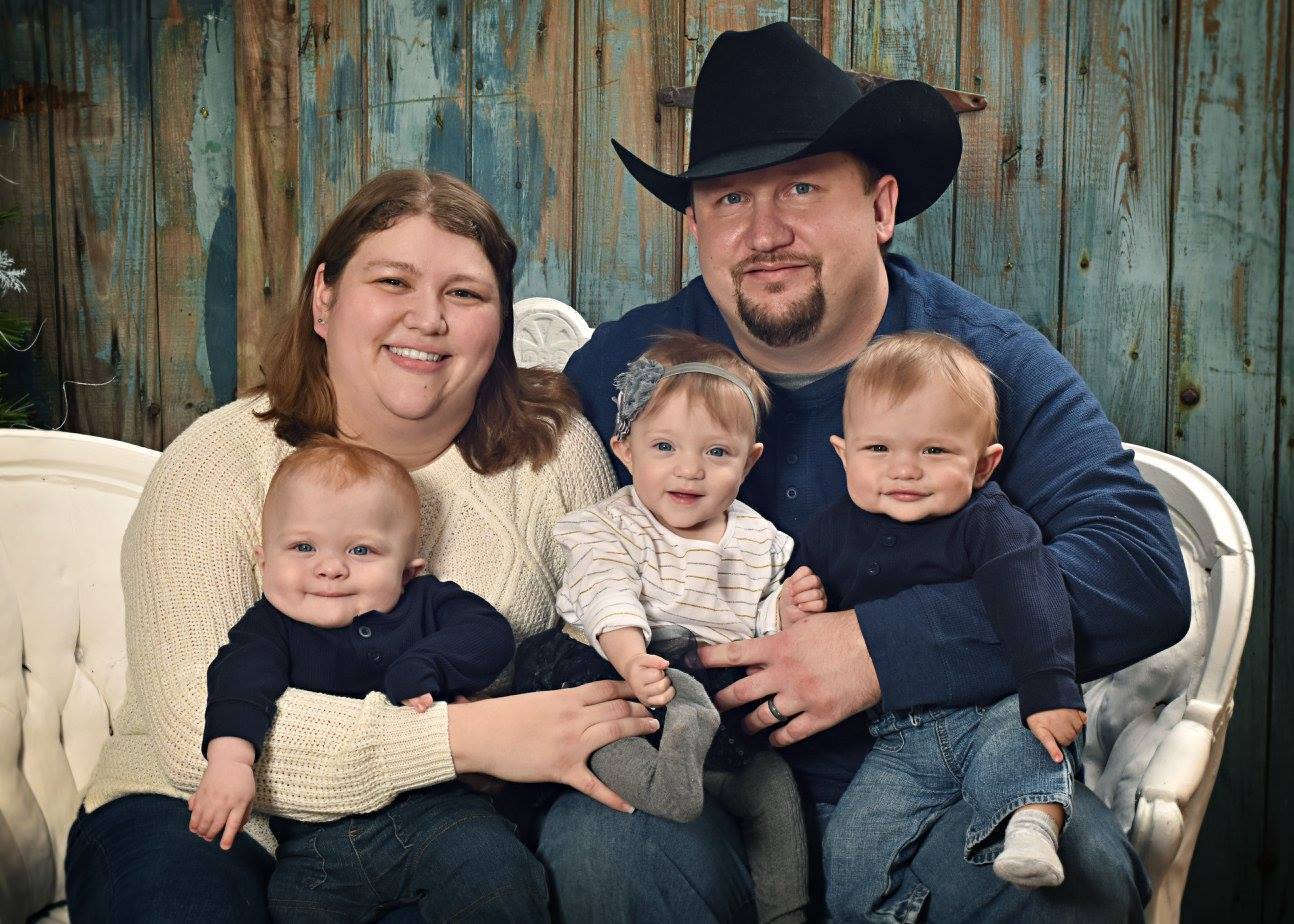 Lyle and Jen Unger will tell you they always knew they wanted to be parents. After three years of marriage they discovered they were pregnant and as most expectant parents, they were "over the moon!" The excitement grew as they learned they were expecting twins, then at an early appointment there was another shocking revelation, it wasn't twins after all… Jen was carrying triplets!
Throughout the pregnancy things developed normally up until week 21 where Doctors discovered that Jen's body was progressing toward labor far too soon. Jen was rushed to the hospital for immediate bed rest with the intent of holding off delivery for as long as possible. At just 23 weeks, their first born, Lyle III had other plans and was born at 8:45pm. Doctors hoped to prolong the pregnancy for the other two babies, but that plan only lasted a few hours as Liam and Kenneth joined the world that same evening.
Due to their early and unexpected arrival at merely 23 weeks gestation, the three boys were rushed to the NICU in critical condition. Jen and Lyle spent three days by their sides cherishing each and every breath— sleeping at night in the Ronald McDonald Family Room only steps away from the NICU. On the third day, the unimaginable… Jen and Lyle lost their precious son Kenneth. Over the following 11 days, they would also have to say goodbye to Liam and Lyle III.
The Ungers cling tight to the moments they got to spend with their boys for those 2 weeks. Precious days that passed too quickly, but moments that they will treasure forever.
But the Ungers' story doesn't end there. In time, Jen and Lyle would decide to consider more children—hoping that their boys could eventually be big brothers… and they would be!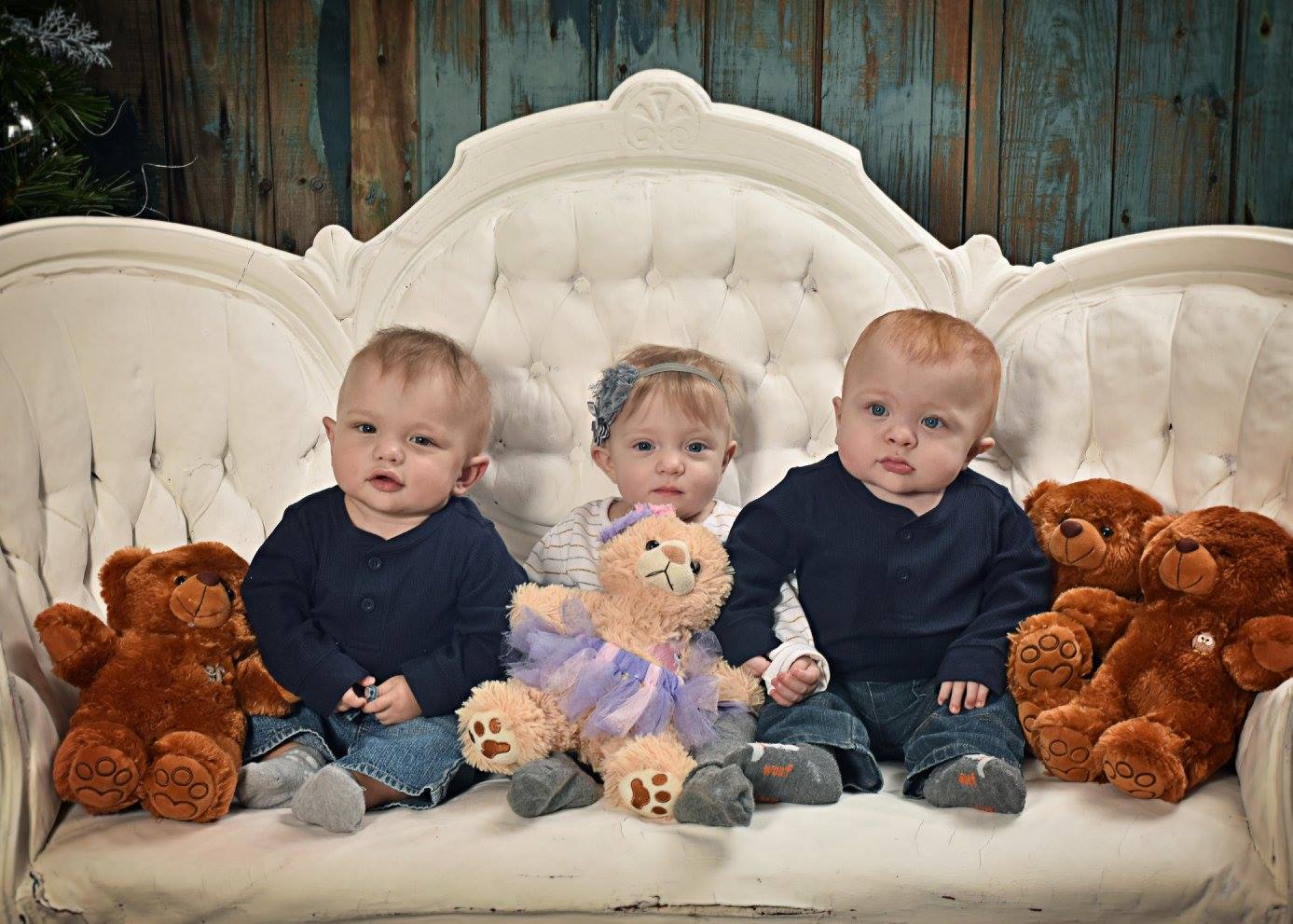 In time, the Ungers would learn that they were again expecting, and that there was again the possibility of twins.
"Our hearts, though filled with want for this child(ren), dropped. It scared us to know we might have more than one. So we scheduled a follow up to come back when the baby would be bigger and we would be better able to see him/her on an ultrasound. We went to that scan with the acceptance that it could be twins and we would do whatever we could to ensure the survival of these children, and that we would achieve (as close to) full term for this pregnancy as was possible. At this scan we learned it wasn't twins after all, instead it was quadruplets. Our hearts shattered from the fear… and then we were in awe as the tech showed us each baby- and their precious little heart beats."
~Jen Unger
With a great deal of caution, Jen was put on bedrest very early in the pregnancy as Doctors worked with the Ungers to extend Jen's pregnancy for as long as her body would allow. After many hurdles and much medical intervention, the newest members of the Unger Family, Lyle IV, Greyson, Sophia and Carrie were born on November 19 at 26 weeks. Each of the four babies weighed less than 2 lbs. at birth.
Again, Jen and Lyle's children were whisked away to the NICU and the Ungers would move into the Ronald McDonald House Charities® Family Room to spend all of their days and nights as close to the NICU and their four babies as they could. They knew just how precious those moments could be. This time Jen and Lyle would stay at RMHC® for more than four months while their babies each fought through their own unique challenges.
The Unger babies were instant icons for everyone that heard their story. The Unger's Facebook page began amassing followers from around the world who sent their daily encouragement, prayers and hope. The encouragement both locally and across the country became an inspiration to everyone who knew them. Tiny Greyson, Lyle IV, Sophia and Carrie had already touched so many people's hearts, just like their big brothers Kenneth, Liam and Lyle III had done before them.
The babies were growing stronger by the day, but there were many hurdles yet to overcome. On Christmas Eve, at nearly five weeks old, little Carrie required surgery for an infection, and to the absolute heartbreak of all, would not make it through the procedure. Lyle and Jen again mourned the unthinkable loss of another precious angel. With three surviving babies in the NICU still needing them desperately, Jen and Lyle leaned into the memories and precious time they had with their little girl.
Through the grief and heartbreak, Lyle IV, Greyson and Sophia would continue to grow stronger–filling Jen and Lyle with unwavering hope and determination. Today the Unger "quadlets" are a year and a half old, healthy, strong and starting to walk! Which, as you can imagine, is keeping Mom and Dad very busy!
"In less than a year (344 days to be exact) we became the parents to 7 amazing babies. Two pregnancies with triplets and quads. While this journey has not been an easy one- as four of our children are no longer with us- we have so much to be thankful for." ­­­­~Jen Unger