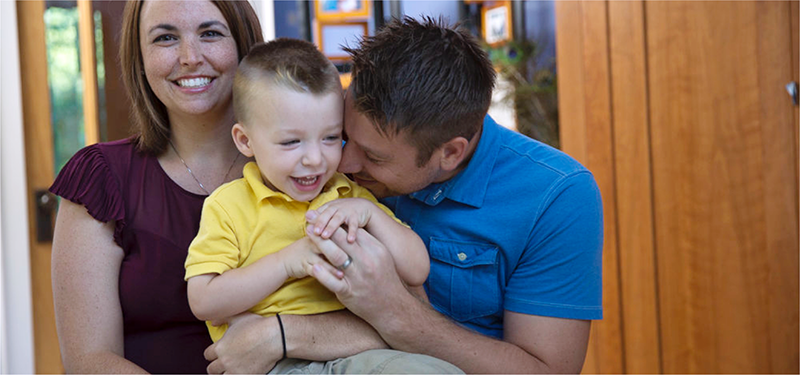 A Rough Beginning
Looking at Oliver, you would never guess that he was born 10 weeks early. At almost two years old, he's bright-eyed and healthy as can be. However, his journey started out in the NICU, where he spent six weeks.
In the first few days while Oliver and mom, Ashley, were recovering, Caleb, Oliver's father, was trying to adjust and take care of his new family. That is when he discovered the Ronald McDonald Family Room at Memorial Children's Hospital.
A Nice, Quiet Place
"It was a nice, quiet place with no beeps or heart monitors," Caleb said. "The volunteers were friendly and comforting, but they didn't pry and ask questions."The Family Room provided every resource the Knapp family needed – anything and everything from hot meal, and a place to shower to a comfortable quiet couch to rest on. Most importantly, it provided community.
Memorial Children's Hospital is graciously providing us with a 15,000-square-foot space. The support of our mission partners has helped us serve these families each day, but in order to buildout the space and furnish a new Ronald McDonald House®, we need additional capital.
Community Is Important
"The community aspect is so important," Caleb said. "There are parents going through the same situation you are, and sometimes all you need is to look around and be reassured that you're not going through this experience alone."
The Knapp family has already recommended that others check out the Family Room, but they are also helping out in a bigger way. Caleb decided to take part in the annual McDazzle Men in Kilts fundraiser. When his workplace was asked to help out, he decided to don the kilt.
Soon after accepting the kilt, Caleb began to fundraise. His most rewarding moment was when he asked if a local business would be willing to donate their venue for a fundraiser. At first, the owner was hesitant, but when Caleb explained that it was for Ronald McDonald House Charities, the owner simply said that whatever he needed would be provided. It turned out that the owner's family, too, had used the Family Room.
For almost two years, the Knapps have been involved with the Charity, continuing to help fundraise so other families may have the same resources that were available for them in their time of need. "I couldn't imagine being in the hospital and not having the Family Room as a resource," Caleb said. "We didn't use the Family Room for too long but, for those few days, it was priceless."