We have provided a home-away-from-home for thousands of families with sick or injured children since opening in 2002. Our beautiful 15,000-square-foot Ronald McDonald House serves as a refuge for parents and siblings of children being treated at Beacon Children's Hospital, Memorial Hospital and Memorial Epworth Center in South Bend, Indiana. It's a place for parents and siblings to rest and rejuvenate only steps away from their loved one.
The House offers an array of amenities including freshly-prepared meals daily, snacks, shower facilities and overnight accommodations. There are 20 bedrooms, each with a private bathroom and two queen-sized beds. There is a fully-stocked pantry and large open-plan kitchen with multiple cooking and seating areas designed to bring families together in support of each other.
The House also features a children's play area, laundry facilities, several multi-purpose rooms that can serve as private meeting or meditation areas, and a fully-furnished community living area with a large screen television – all at no cost to the families we serve.
Spending time in the hospital day in and day out takes its toll. We offer a place for visiting families to enjoy meals, take a shower, do a load of laundry, or have a few moments of quiet outside the hospital environment.
Each guest suite features 2 queen size beds and a private bathroom to accommodate families who receive a referral from the hospital.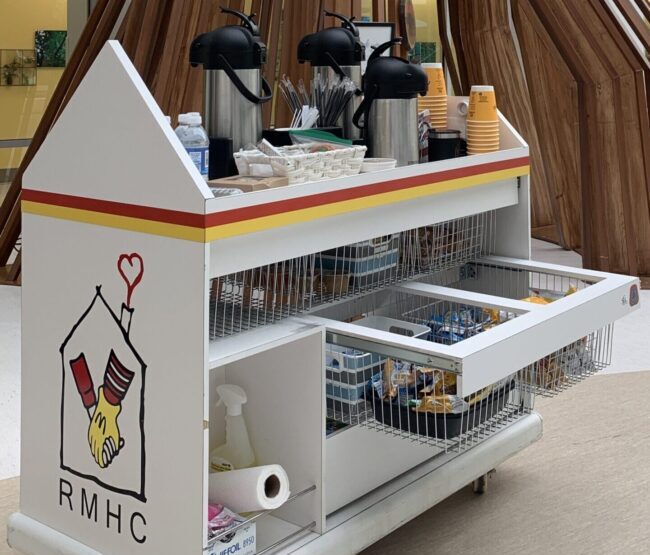 Coffee Cart & Hospitality Kiosk
A hot coffee can make all the difference. Our volunteers visit Beacon Children's Hospital every weekday to offer coffee, snacks, juice and small gifts to patients and families.
We also offer a Hospitality Kiosk for families at Elkhart General Hospital.